Holiday Clinical Prep Course
Facilitator
Teisha Vaughn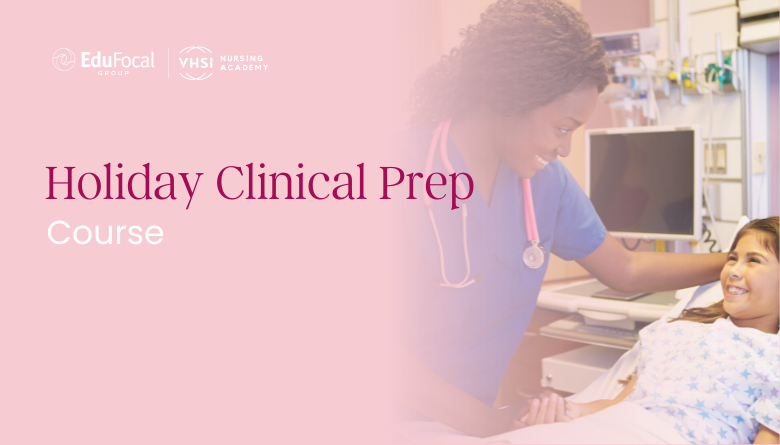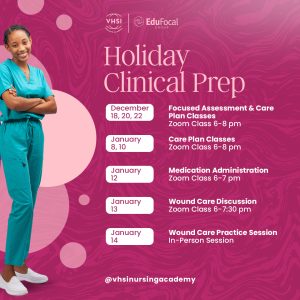 Prepare for Success with Our Holiday Clinical Prep Course
December 18, 20, 22 & January 8, 10, 12, 13, 14
Are you a nursing student gearing up for clinicals in January? Don't let the holiday season catch you off guard. Join our intensive Holiday Clinical Prep Course to ensure you're fully prepared for the challenges that lie ahead.
Course Highlights:
1. Care Plan Class, Health assessment & Documentation (December 18, 20, 22):
Master the art of creating comprehensive care plans.
Develop critical thinking skills for effective patient care.
Hone your assessment techniques.
Enhance your ability to detect patient needs accurately.
2. Care Plan Class only (January 8, 10):
Continue to work on creating comprehensive care plans.
Continue to develop critical thinking skills for effective patient care.
3. Medication Administration (January 12):
Learn safe and precise medication administration.
Understand the checklist and key points.
4. Pre-seminar Wound Care Discussion (January 13):
Dive into the world of wound care.
Explore the techniques required for examinations.
5. Practice Session at Wound Care Seminar (January 14):
Gain hands-on experience in wound care practices.
Why Choose Our Holiday Clinical Prep Course?
Balance your holiday festivities with essential nursing skills.
Expert instructor with wide clinical experience.
Small class sizes for personalized attention.
Payment plans available to suit your budget.
Invest in your future with a cost of just 19,000 JMD.
Don't let the holiday season slip by without ensuring you're fully equipped for your upcoming clinicals. Enroll in our Holiday Clinical Prep Course today and step into January with confidence.
Limited Seats Available! Reserve Your Spot Now!
You may also do aspects of the course separately. Check out our ticket options.
There is no refund available once registration is complete. Feel free to cancel your booking at any time prior to payment.